Looking Back at a Successful LearnLaunch!
February 5, 2020
Our President & CEO, Jean Eddy, shares highlights of ASA's attendance at LearnLaunch 2020 alongside many other innovative teachers, leaders, investors and entrepreneurs.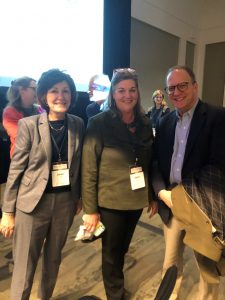 Just a few weeks ago, we marked the beginning of a new decade. Many people shared the sentiment that the previous 10 years seemed to pass in a flash. I suspect the same will be said in another 10 years when we start the next decade, 2030. When I think about that next decade, I realize the importance of the work educators are doing today, preparing our current middle schoolers – the workforce of 2030!
Educators already know that the future is here and are working to address the challenges that this new decade and future labor market bring. This was made clear last week at LearnLaunch's 2020 Across Boundaries conference, where the theme was the workforce of tomorrow. From looking at ways to bring career professionals into the classroom to developing partnerships with other schools to share resources, educators are using their entrepreneurial spirit and thinking to deliver the type of deeper learning students need to thrive well into the next decade and the future.
It was a privilege to be alongside the many innovative teachers, leaders, investors and entrepreneurs to share what ASA is doing to support educators and schools in their efforts. Our ASA team was out in full force at the conference! Here are a just a few highlights:
Clay Colarusso, ASA's Vice President of Marketing, joined Education First and Skillshare for a lively discussion on the impact of informal learning on students. They explored how everything from YouTube to micro-credentials to co-working spaces, accelerators, and Meetups impact the learning ecosystem today and in the future.
Social capital and modern high school experiences were the focus of a session moderated by ASA's CSO Annabel Cellini, with widely-respected panelists Andrew Frishman, Co-Executive Director at Big Picture Learning; Amy Loyd, Vice President at JFF (Jobs for the Future); and Connie Yowell, CEO LRNG/EVP, Southern New Hampshire University.
The final keynote session, aptly named The Future World of Work, highlighted the important efforts of several ASA partners and grantees. Getting Smart's Tom Vander Ark hosted a dynamic discussion led by panelists Ed Hidalgo, Chief Innovation and Engagement Officer at Cajon Valley Union School District; Alisa Wilke, Vice President of Strategy & Innovation for ASA; and David Blustein, Program Director of Ph.D. Counseling Psychology at Boston College.
We learned so much from these partners and peers, and ASA is committed to helping advance their work beyond the conference. That's why we also announced our latest round of
 three-year grants to support middle school career exploration in Massachusetts. It is evident that Massachusetts is a hotbed of education innovation, and we will share the lessons learned here with the greater education community across the country. We are grateful to former Governor Jane Swift and Secretary Rosalin Acosta, who joined us for the announcement and to share their insights on how investments like these can help to set our students on course for the future.
While it was an amazing week of learning, sharing and forming new partnerships, we know that we can't waste a minute of the next 10 years if we want to make ensure today's students are ready for tomorrow. It's time to get to work.