Few things give us more joy than the opportunity to award grants directly to schools and students.
The excitement was palpable for the educator and student teams who were announced as the winners of our inaugural ASA Solve Together challenge, a national skill-building competition we hosted in partnership with Association for Middle Level Educators (AMLE).
Designed to encourage career exploration through project-based learning for middle school students, student teams selected one of four real-world challenges, developed a solution, and built and presented their project to address major issues we face today, such as climate change, impacts of the pandemic, and the possibility of sustaining life on other planets. We received nearly 200 incredibly impressive submissions from student teams across the country and, chose three winners for the competition:
First Place
The "Galactic Girls" team of five seventh grade female students from Plouffe Academy in Brockton, MA, were crowned the champions of our first-ever Solve Together contest. They took on the challenging task of creating solutions to address the sustainability of life on Mars, and there is no doubt that each of these young ladies have incredible careers in STEM awaiting them.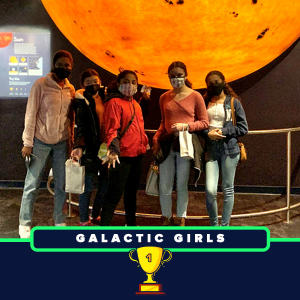 Through extensive research, a visit to the Boston Science Museum, and even an interview with former director of NASA's Marshall Space Flight Center, the Galactic Girls developed comprehensive blueprints and models for hydroponic farms to sustain a colony on our neighboring red planet. Guidance counselor John MacDonald encouraged and mentored the team throughout the process. We encourage you to check out their project by watching this video.
Not only did the Galactic Girls win bragging rights as the inaugural victors, but they also won the $10,000 grand prize for their school, as well as $1,500 to be shared among team members. In addition to the priceless gift of a host of important career readiness skills for their future, the students received a trophy to put in their classroom and a banner for their school.
Second place
The "Futuristic Illusionists" team of five sixth graders from the New Hyde Park Road School in New Hyde Park, NY, received the second-place prize and $5,000 for their school, thanks to their incredible efforts and creative thinking. The students also took home a $1,000 cash prize to be split among team members, a trophy to put in their classroom, and a banner for their school.
Educator Jennifer Coaker supported this student team in creating a truly impressive submission aimed at designing real-world applications.
Their project also focused on addressing the challenge of life on Mars, but they took a different approach than their peers. These talented and ambitious students proposed and submitted a suite  of digital materials including a website, game and video to demonstrate expert-level solutions to challenges including radiation exposure, toxic soil, and cold temperatures.
You can check out their incredible work here.
Third Place
The "Environmental Defense Team" from the Larchmont Charter School in Los Angeles, CA, placed third and received $2,5000 in prize money for their school, thanks to their excellent presentation of four detailed energy solutions to address climate change in specific states and regions across the country. They also
won $500 to be shared among team members, a trophy to put in their classroom, and a banner for their school. The proposal from this team of four seventh grade students and their educator, Rachel Jung, included scalable use of wind turbines, hydrokinetic energy, solar panels, and other renewable energy sources to tackle one of the greatest issues facing their generation's future. Their passion for the subject came through in their work, and we're eager to see how these future scientists use their research and solutions in their future careers.
Learn more about their work here.
Educator Recognition Award
Of course, none of these amazing projects would be possible without the guidance and mentoring provided by the hundreds of educators who encouraged their students to participate in the contest and made it possible for their students to access the digital platform, Solvably, to collaborate, manage their research, projects, and submissions.
Through our partnership with AMLE, ASA was pleased to recognize one of these outstanding educators with the inaugural ASA Solve Together Educator Award.
Hannah Choi from Larchmont Charter School in Los Angeles, CA, was recognized with the ASA Solve Together Educator Award of $1,000 for her work in teaching 32 teams of students about the far-reaching economic impact of COVID-19 and guiding them to develop potential solutions to the many real-life challenges businesses and families are facing from the pandemic. Through her exceptional guidance, students built problem-solving skills through a variety of exercises designed to expand their thinking, creativity, and entrepreneurial spirits.
Kudos to all of the winning teams and all participating schools! You blew us away with your ingenuity and persistence, all through remote learning, no less.
We look forward to seeing more from these bright students and dedicated teachers in the future.
You can watch the recording of the virtual ceremony here.
Keep up with ASA and AMLE to be the first to know about future opportunities and ASA Solve Together challenges.